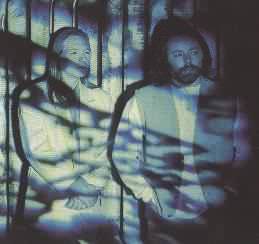 Consisting of Eric Mouquet and Michel Sanchez, the band Deep Forest bring together ethnic songs and high technology. This captivating music must not only be heard but must be felt.
One day, Michel gave Eric a tape containing some chants to work on. Eric, at the time was involved in "house music" and other soft rhythms while Michel was collecting sounds compiled by ethnologist. At this point they created Deep Forest, creating music using sounds from allover the world.
The next Album:
Deep Forest's contract is for five albums, not including World Mix. The next album (after
Comparsa
) should be based on Asian sounds as hinted by Michel Sanchez.
Performances with other artists:

Peter Gabriel on the album "Strange Days" (1995)

Lokua Kanza for the song "Ave Maria" on the album "World Christmas" (1996)
Tours:
The first concert started in Lyon, France on June 29 1996, pictures can be seen
here
. Proceeding to Hungry, Greece, Australia, and Japan.
Deep Forest toured Japan around July 1998. Visit the
description
of the concert that took place at Tokyo. View the
news
section for the dates
Music Videos:

Sweet Lullaby (Tarsem)

Deep Forest (Kevin Godley)

Marta's Song (Didier Kerbrat)

Boheme (Howard Greenhalgh)

Madazulu (Tim MacMillan)
Dao Dezi:

A Celtic based album, the group is made up of Eric Mouquet and Guillain Joncheray (executive producer on Deep Forest). Featuring folk music and performances by Denez Prigent, Tri Yann, Arnaud Maisonneuve, and Manu Lann Huel.
Michel Sanchez:
Similar to the style of Deep Forest, Michel released the Album Windows (1995) in collaboration with Dan Lacksman (engineer/producer on the album Deep Forest).
Pangea:

Very similar to the album "Deep Forest", this album was made by Cooky Cue and Dan Lacksman, two engineers who worked on the album Deep Forest. This album gets it's name from the sole continent of the earth before the Triassic period.