The Sound: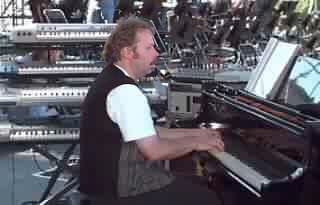 Eric Mouquet stated that: "Throughout the world, people found it difficult to classify the Deep Forest music... Some people probably like the music precisely because it is hard to classify."
Having released three albums that are very different it's hard to give Deep Forest a trademark. The album "Deep Forest" featured African sounds, creating an ambient-techno music. Boheme, based on eastern europe, sounds was a lot more ambient. Comparsa was very highly percussive, giving it a bit more dance flavor.
Samples used on Deep Forest:
The original samples used by Deep Forest were from UNESCO. Hugo Zempe and Shima Arom, UNESCO musicologists, collected the samples in the 1980s. Deep Forest altered the tempos, pitches and merged them to obtain what you now hear today on their albums.
Samples used on Boheme:

Rudas Czillag, Babam Babam, Andokukurizo, Esik As Eso
, and
En Istenem
from the album
Rom Som Ame, Hungarian Gipsies Traditions

Istenem Istenem
,
O Istenem Mit Csinaljak
, and
Mikor Csikbol Kiindultam
from the album
Musics from Transylvania

A Recitative for Describing Loneliness
from the album
The Music of Aborigines on Taiwan, The Songs of the Yami Tribe Island Vol. 3

The Partisans
from the album
Songs of Women from the Old Russia

Auschwitz
from the album
Latcho Drom

Mandax Nar
from the album
Tsagaan Sar-White Moon, Traditional and Popular Music from Mongolia

Songs of Love, Luck, Animals and Magic
from the album
Songs of Love, Luck, Animals and Magic - Music of the Yurock and Tolowa Indians
Instruments:

Roland RSS 30 System

Fairlight equipment

Akai S1000 (to sample the vocals in small sections)

Korg Workstation (Michel's initial keyboard parts)

Multi Moog (produced a lot of the sounds)

Mini Moog (sample effects)

Prophet VS (the building of multi-layers)

JD800 (to use its internal effects)

RSS